Virgo love & relationship horoscopes + psychic readings
Virgo
More Horoscopes:
General
Money & Finance
Career & Business
Daily Love & Relationship Horoscope for Wednesday 24 May: view Tuesday or Thursday
It might be clear to you how effort on your part is required to improve a love life situation but don't believe onus is entirely on you to bring a change, especially if your actions are driven by a sense of guilt. It's also possible you're comparing a present situation with a previous one and are determined to ensure history doesn't repeat itself. It's not entirely up to you to navigate these temporarily tricky waters. Is your relationship a success? Find the best way to treat your partner and keep your love-life fresh.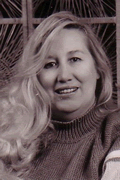 Call featured Psychic Goldey
Goldey aims to bring clarity where there is confusion, hope where there is worry, happiness where there has been sadness. Goldey is clairaudient, which means she senses a great deal from your voice, as well as clairvoyant and clairsentient but Astrology is Goldeys forte. In order to get the most out of your reading with Goldey you should have dates and times at the ready. Goldey can bring you real insight. 
Call Goldey quoting PIN 4439.
Weekly Love & Relationship Horoscope starting 19 May:
It's not what you say, it's the way that you say it this week and if you've grown bored of or uninspired by the levels of depth offered by conversations or exchanges with a loved one or potential partner, then events this week could restore your faith in more than one way. You might not be able to put your finger on it immediately but will sense what's being said carries more depth, honesty and passion than you've been aware of previously. Can this transform a relationship and strengthen a bond? Absolutely!
Monthly Love & Relationship Horoscope for May:
Your words are powerful this month in every area of your world and your love life, in particular, can benefit from long-overdue communication. It will likely be around the Full Moon on the 10th that concealed thoughts or feelings come to light that have potential to transform a relationship or bond. A certain conversation or exchange can escalate quickly and passionately, encouraging you and someone close to be honest with yourselves and each other about how deep your feelings for each other really are.
More Horoscopes:
General
Money & Finance
Career & Business