Virgo love & relationship horoscopes + psychic readings

Virgo
More Horoscopes:
General
Money & Finance
Career & Business
Daily Love & Relationship Horoscope for Tuesday 6 October: view Monday or Wednesday
You could find yourself wanting to be supportive of a loved one yet having to walk on proverbial eggshells at the same time. You can see clearly where they could use support or input from you but could also be very aware of how close to the edge of very sensitive territory you are by making certain points known. For now, err on the side of caution. Sensitivities will ease soon. Do you want to get closer to someone? Discover how you can impress them with your love-making skill.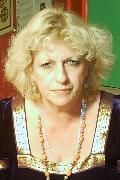 Call featured Psychic Charlotte
Charlotte is a natural Clairvoyant. She has a developed intuition and has been reading the Tarot for over 30 years and specializes in love and relationship issues. Charlotte has the psychic WOW factor and will give you extensive details surrounding answers to your problems and the ability to help you discover the best course of action to take. 
Call Charlotte quoting PIN 4005.
Weekly Love & Relationship Horoscope starting 2 October:
The great news is, Venus glides into your sign this week after an extended stay in Leo. Her presence will bless you with appeal, charm and affection that can win you new friends and admirers and if you're looking for love, then from as early as this week you have an excellent chance to make a fantastic first impression. Your powers of attraction are strong now and if you're a single Virgo, your charm, friendliness and self-confidence can bring delightful results.
Monthly Love & Relationship Horoscope for October:
October could be a revealing month in many respects, due particularly to progress being experienced on the romantic front as a result of effort invested earlier this year. Where you might have believed effort resulted in a no-show or nil result, you could be pleasantly surprised to see life still exists. This could relate to a romantic plan or a relationship you thought had no scope to progress. Best romantic days? October 1st, 3rd and 30th. Best match? Aries or Leo
More Horoscopes:
General
Money & Finance
Career & Business