Taurus love & relationship horoscopes + psychic readings
Taurus
More Horoscopes:
General
Money & Finance
Career & Business
Daily Love & Relationship Horoscope for Wednesday 24 May: view Tuesday or Thursday
A loved one might be adopting a 'cruel to be kind' attitude with a view to trying to help you in some way but you might not see anything 'kind' within their actions or decision. It's possible you're being encouraged to take the lead in a way someone close feels they've done for too long. This might come across as them being unsupportive which isn't the case. If you're honest with yourself, you can likely see and accept the point they're making. What's up and coming up in the months and days ahead? Get a Forecaster to find out.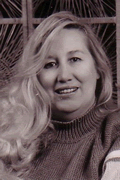 Call featured Psychic Goldey
Goldey aims to bring clarity where there is confusion, hope where there is worry, happiness where there has been sadness. Goldey is clairaudient, which means she senses a great deal from your voice, as well as clairvoyant and clairsentient but Astrology is Goldeys forte. In order to get the most out of your reading with Goldey you should have dates and times at the ready. Goldey can bring you real insight. 
Call Goldey quoting PIN 4439.
Weekly Love & Relationship Horoscope starting 19 May:
This week, focus on what's understood and agreed between you and someone close rather than what appears complex. You and the object of your affections might have been focused so intently on the finer details and trivialities within your relationship that you've overlooked what's strong and worthy of appreciating within it. That doesn't mean complexities will suddenly vanish overnight but recognizing the strength and depth of your bond will make them much easier to resolve - especially if one of you believes your commitment or loyalty levels outweigh the other's.
Monthly Love & Relationship Horoscope for May:
Recent weeks might have encouraged you to take stock of a romantic or relationship situation or arrangement and, from early May, you'll feel a strong urge to convey what you've been thinking and conclusions you've drawn. Don't be concerned a loved one or potential partner will see your thought processes as being too analytical. If anything, it will be clear to them how seriously you're taking the bond between you. A Full Moon on the 10th brings a new chapter to your deepest commitments. The deepening or strengthening of one bond in particular can happen.
More Horoscopes:
General
Money & Finance
Career & Business