Taurus love & relationship horoscopes + psychic readings

Taurus
More Horoscopes:
General
Money & Finance
Career & Business
Daily Love & Relationship Horoscope for Friday 9 October: view Thursday or Saturday
Don't allow a pessimistic or negative mood to influence plans to interact with others or one person in particular. Where you believe you have reason to feel less than optimistic or buoyant, you could be surprised and delighted with support offered by at least one person able to lift your spirits or help you to shake off an Eyeore-like attitude. Get 25% OFF your 2014 Horoscope Forecast.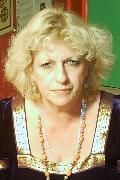 Call featured Psychic Charlotte
Charlotte is a natural Clairvoyant. She has a developed intuition and has been reading the Tarot for over 30 years and specializes in love and relationship issues. Charlotte has the psychic WOW factor and will give you extensive details surrounding answers to your problems and the ability to help you discover the best course of action to take. 
Call Charlotte quoting PIN 4005.
Weekly Love & Relationship Horoscope starting 9 October:
Venus has entered your fifth house of true love and is about to enjoy a pally time with good luck planet Jupiter. These two plan to bring new levels of comfort and optimism to your emotional world and the first clue regarding what their plans are could manifest as early as this week. To truly benefit from the fresh start and new beginning on offer, you'll need to lose a barrier or two. It's time to become less guarded or protective if you want to make romantic progress.
Monthly Love & Relationship Horoscope for October:
A new level of calmness can be enjoyed but impatience on your part could be prevalent. Although much of what has been volatile or uncertain looks set to become stable or resolved, there could be one development you'd like to see happen in your emotional world that cannot be hastened. Give what has been unsettled a chance to settle and you'll see a situation in a new and helpful light. Best romantic days? October 11th, 17th and 29th. Best match? Cancer or Sagittarius
More Horoscopes:
General
Money & Finance
Career & Business