Taurus love & relationship horoscopes + psychic readings

Taurus
More Horoscopes:
General
Money & Finance
Career & Business
Daily Love & Relationship Horoscope for Sunday 24 May: view Saturday or Monday
What might appear to be a proverbial spanner in the works of an otherwise carefully prepared plan needn't be seen as unhelpful obstacle. If anything, you have a chance to reassess a scheme and how helpful a particular person can be to it. Romantic possibilities exist where you're willing to be led than take the lead. Be flexible now and see where events or fate want to take you! Can you spot opportunities? Personal Predictor alerts you. Try for free.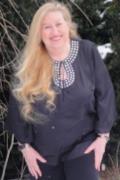 Call featured Psychic Goldey
Goldey aims to bring clarity where there is confusion, hope where there is worry, happiness where there has been sadness. Goldey is clairaudient, which means she senses a great deal from your voice, as well as clairvoyant and clairsentient but Astrology is Goldeys forte. In order to get the most out of your reading with Goldey you should have dates and times at the ready. Goldey can bring you real insight. 
Call Goldey quoting PIN 4439.
Weekly Love & Relationship Horoscope starting 22 May:
It might be necessary to work a bit harder to find balance between social pressures and a romantic interest. Friends could be pulling you in one direction and a loved one or love interest might be taking priority in your heart and mind. You can't be two places at once – or can you? Perhaps, involving a loved one more in social settings is the answer. This week, there is a way you can balance your social and personal lives in ways that suit all concerned.
Monthly Love & Relationship Horoscope for May:
During May, a strong sense of duty could prevail where close personal relationships are concerned and it could become clear how your responsibility to certain others has increased or why a need exists for you to placate certain people in your world. What's needed on your part where your interaction or involvement with those closest to you is concerned is honesty in its purest form. Be honest with yourself about how able you are to meet the demands of others or a loved one. Then, be honest with them about what you're able and prepared to support or deliver.
More Horoscopes:
General
Money & Finance
Career & Business