Taurus horoscopes + psychic readings
Taurus
More Horoscopes:
Money & Finance
Love & Relationship
Career & Business
Daily Horoscope for Wednesday 24 May: view Tuesday or Thursday
Try not to take criticism to heart as comments and suggestions coming your way hold more than a nugget of truth and are intended to be helpful. Whether this involves someone sharing with you something gained from their experience or a trusted individual pointing out something you've genuinely overlooked in a certain situation, you can undoubtedly benefit from others' insight or pearls of wisdom. Struggling with a decision? Let your personal Career Analysis provide valuable insights.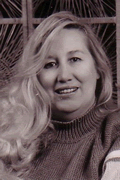 Call featured Psychic Goldey
Goldey aims to bring clarity where there is confusion, hope where there is worry, happiness where there has been sadness. Goldey is clairaudient, which means she senses a great deal from your voice, as well as clairvoyant and clairsentient but Astrology is Goldeys forte. In order to get the most out of your reading with Goldey you should have dates and times at the ready. Goldey can bring you real insight. 
Call Goldey quoting PIN 4439.
Weekly Horoscope starting 19 May:
It might have been clear recently that you've had to 'know your place' within a group setting or organization. This might not have been helped by ways you were bringing new ideas to established routines and many Taureans might have felt they weren't winning popularity prizes for doing so. If you haven't seen a shift in others' attitude toward you or felt your contribution to a cause was being seen in a more welcoming and positive light, then coming events could confirm this.
Monthly Horoscope for May:
A moment of clarity is on offer as May commences. Expect to become aware of how negative energy or a defeatist attitude haven't helped your productiveness in a particular area in recent weeks. Feeling more involved with or integral to a plan or project might require a 'clearing of the air' but this has likely been long overdue. The month ends with a New Moon that wants to help you to boost your earnings or income. It's time to put at least one money-making idea into action!
More Horoscopes:
Money & Finance
Love & Relationship
Career & Business
2017 Forecaster
See how you benefit from a Forecaster report, find out what's coming up in the days ahead.
Get My 2017 Forecast