Scorpio love & relationship horoscopes + psychic readings
Scorpio
More Horoscopes:
General
Money & Finance
Career & Business
Daily Love & Relationship Horoscope for Wednesday 24 May: view Tuesday or Thursday
To make sense of new feelings emerging within you, you might need to explore the depths of your heart and be prepared to be surprised at what reveals itself. Much of what's emerging now stems from you being more prepared to put aspects of your romantic or relationship past behind you and being more receptive to giving new opportunities a closer look. A new era can commence if you want it to. How do you match up with your partner? A Relationship Success reading helps you find out!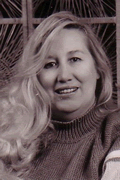 Call featured Psychic Goldey
Goldey aims to bring clarity where there is confusion, hope where there is worry, happiness where there has been sadness. Goldey is clairaudient, which means she senses a great deal from your voice, as well as clairvoyant and clairsentient but Astrology is Goldeys forte. In order to get the most out of your reading with Goldey you should have dates and times at the ready. Goldey can bring you real insight. 
Call Goldey quoting PIN 4439.
Weekly Love & Relationship Horoscope starting 19 May:
There has been much emphasis recently on you learning to love yourself before you can give your abundance of love and passionate energy elsewhere and the coming week continues to emphasize that message. Learning to love yourself has much more to do with forgiveness, self-forgiveness and accepting you're not obliged to carry weighty and boring burdens from your romantic or relationship past. You deserve to be freed from these and it might take only a very small point this week to be conveyed to you in order for that to be understood.
Monthly Love & Relationship Horoscope for May:
To truly understand and make sense of your feelings – either for a particular person or your romantic or relationship needs – you'll need to reconnect with how you feel within yourself and that's something the Full Moon in your sign intends to assist with. Forgiveness or finally being prepared to put behind you at least one disappointing or upsetting episode from your romantic or relationship past will help you put a relationship on a firmer footing – or make embarking upon one considerably easier! Be willing to let go of what has needed letting go of for some time.
More Horoscopes:
General
Money & Finance
Career & Business