Pisces love & relationship horoscopes + psychic readings
Pisces
More Horoscopes:
General
Money & Finance
Career & Business
Daily Love & Relationship Horoscope for Wednesday 24 May: view Tuesday or Thursday
You might believe a loved one or someone close needs time and space to come to terms with or resolve a certain matter but, in truth, they need you to be there, both physically and emotionally. As much as you might believe allowing them breathing space will be helpful, it appears you can't be seen to be doing too much for them now. Just be at their side and let them advise what they need from you. Leave any assumptions out of it. Do you know how to develop your lovemaking skills?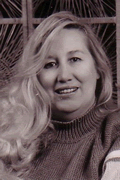 Call featured Psychic Goldey
Goldey aims to bring clarity where there is confusion, hope where there is worry, happiness where there has been sadness. Goldey is clairaudient, which means she senses a great deal from your voice, as well as clairvoyant and clairsentient but Astrology is Goldeys forte. In order to get the most out of your reading with Goldey you should have dates and times at the ready. Goldey can bring you real insight. 
Call Goldey quoting PIN 4439.
Weekly Love & Relationship Horoscope starting 19 May:
If you're aware of loose ends that exist in your emotional world, especially where unfinished discussions or negotiations are concerned, then events this week could reassure you that conversations and exchanges can be restored. This could be helped by clarity you or a loved one experience that helps to make sense of what has been senseless or acting as a barrier to progress recently. You and the object of your affections can pick up where you left off but in the knowledge that current circumstances are so much more conducive to heartwarming and reassuring progress.
Monthly Love & Relationship Horoscope for May:
If financial matters have proved to be problematic in your love life or a bone of contention between you and someone close, then May offers a superb chance to resolve issues. Balance is being brought to what has become - or been perceived as - imbalanced where money matters between you a loved one are concerned. It's by working as a team to agree ways forward that can strengthen an existing bond or, if single, help form new ones. By month-end, expect to feel relieved that tension or defensiveness you've grown used to accepting is finally waning.
More Horoscopes:
General
Money & Finance
Career & Business