Libra love & relationship horoscopes + psychic readings
Libra
More Horoscopes:
General
Money & Finance
Career & Business
Daily Love & Relationship Horoscope for Wednesday 24 May: view Tuesday or Thursday
You might be overestimating what's required from you to make a decision or take action connected with your emotional world. In truth, taking a step any direction will bring a result you'll be pleased with so try not to see change you're keen to introduce as so dramatic. Taking small steps forward will bring reassuring progress now. Trust that anything bigger is wasted energy now. Facing challenging times ahead?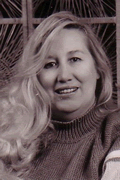 Call featured Psychic Goldey
Goldey aims to bring clarity where there is confusion, hope where there is worry, happiness where there has been sadness. Goldey is clairaudient, which means she senses a great deal from your voice, as well as clairvoyant and clairsentient but Astrology is Goldeys forte. In order to get the most out of your reading with Goldey you should have dates and times at the ready. Goldey can bring you real insight. 
Call Goldey quoting PIN 4439.
Weekly Love & Relationship Horoscope starting 19 May:
Events this week could highlight how right you believe yourself to be and how 'in the wrong' a loved one or someone close is. You might see it as simple as that, too. However, romantic or relationship progress relies on flexibility and willingness to compromise and this shouldn't be seen by you as 'giving in'. You hold much influence where bringing the end to a certain power struggle is concerned. Rising above it and being willing to be more of a listener can bring swift closure where it's needed.
Monthly Love & Relationship Horoscope for May:
What has been confusing or downright nonsensical where communication between you and object of your affections is concerned in recent weeks is about to be blessed with new levels of clarity. Relief and reassurance can replace turbulence and perplexity. However, as May draws to a close, a family or domestic matter could cause you and a loved one or potential partner to lock horns in some way. Plenty of preparedness to listen and willingness to reach a compromise will be needed on both sides to overcome this potentially tense hurdle.
More Horoscopes:
General
Money & Finance
Career & Business