Libra love & relationship horoscopes + psychic readings
Libra
More Horoscopes:
General
Money & Finance
Career & Business
Daily Love & Relationship Horoscope for Sunday 24 July: view Saturday or Monday
If feelings of uncertainty or insecurity are becoming stronger where your emotional world or a close relationship are concerned, then try not to allow yourself to go into self-protective mode. If both are allowed to escalate, then they could become deep-rooted and difficult to shift later. They exist only because of change and you can be assured you'll like what's changing. How can you improve your relationship skills? Try Soul Mates for free.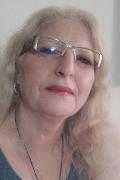 Call featured Psychic Tina
Tina is a Natural Psychic Clairvoyant who is also a very good Medium. Tina can do distant healing helping you feel more yourself. Tina uses her guides and angels to help guide you and give you the answers that you are seeking regarding any situation you may be facing. Tina can also use the Pendulum, Tarot and Angel cards if requested, to give a very indepth and detailed reading. Tinas readings will leave you with a zest for life and feeling content with yourself. 
Call Tina quoting PIN 4375.
Weekly Love & Relationship Horoscope starting 22 July:
The words, 'there's no time like the present' could be your motto where progress in your emotional life or with a certain person are concerned. Your ability to convey yourself with ease will come in handy if you've been postponing a romantic exchange with a certain person. The coming week is about pushing forward with plans that might have been shelved but ensure you're not setting romantic expectations too high or wanting too much to happen too soon.
Monthly Love & Relationship Horoscope for July:
Your ruler's entry into your social sector could bring romantic opportunities if you're willing to make yourself available to discover them but an underlying need for verbal or physical reassurance could make you a bit more sensitive or insular. If you're an attached Libran, then you might need to make clear to a loved one that you could use a bit more support or TLC. You might also be required to compromise in a way that causes you to wonder how one-sided what's being expected of you really is. Best romantic days? 14th, 15th and 23rd Best romantic match? Pisces
More Horoscopes:
General
Money & Finance
Career & Business