Libra love & relationship horoscopes + psychic readings
Libra
More Horoscopes:
General
Money & Finance
Career & Business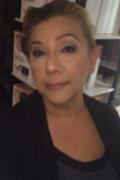 Call featured Psychic Molly
I have over 35 years experience specializing in all aspects revolving around love especially. I also specialise in career, finances and past life regression. I look forward to helping guide you through the hardships of life. Let me use my gifts by blending their inspiration and life experiences to create a well-rounded guidance that concentrates on self-discovery and interpersonal relationships. It is my goal to help you access information about your life, relationships, and career issues in a way that is most meaningful to you When working with me. That is why it is important for us to keep working together. I enjoy my callers by helping others to live a life of emotional peace and harmony. I look forward to connecting with you.  
Call Molly quoting PIN 4146.
Weekly Love & Relationship Horoscope starting 27 May:
The coming week could bring a revelation, regardless of your relationship status. This could surround you becoming more accepting of something – or someone – than you have been previously. It could become apparent your flat refusal might have been little more than a kneejerk reaction. Prepare to be willing to reconsider what or who you were dismissive of. You might wonder why it took so long for you to come round but it's a case of better late than never.
Monthly Love & Relationship Horoscope for May:
With your ruler Venus transiting your sharing sector until the 24th, discussions about money and ways you and a loved one could make joint plans for the future could be prevalent. This could also be a month requiring a considerable outlay of cash so be certain you're both totally committed to whatever joint venture you embark upon. May is about agreeing who owns what and putting in place financial security for the future but it will have its share of tender moments, too. Best romantic days? 11th, 16th and 27th Best romantic match? Scorpio or Pisces
More Horoscopes:
General
Money & Finance
Career & Business