Libra love & relationship horoscopes + psychic readings

Libra
More Horoscopes:
General
Money & Finance
Career & Business
Daily Love & Relationship Horoscope for Friday 28 August: view Thursday or Saturday
A loved one could appear to be stubborn or unwilling to hear your point of view but you could be well advised to push any inclination to be defensive or confrontational to one side and hear their reasons for being so. By making an effort to hear what clearly matters to them, you could learn something valuable that helps you to be more supportive and less defensive. Might you be missing the best time to make a decision? Be more in control of your relationships and your emotions. Try personal Forecaster for free!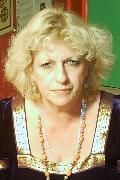 Call featured Psychic Charlotte
Charlotte is a natural Clairvoyant. She has a developed intuition and has been reading the Tarot for over 30 years and specializes in love and relationship issues. Charlotte has the psychic WOW factor and will give you extensive details surrounding answers to your problems and the ability to help you discover the best course of action to take. 
Call Charlotte quoting PIN 4005.
Weekly Love & Relationship Horoscope starting 28 August:
The coming week could see you assessing and reassessing certain thoughts, ideas and feelings you believed were right to be filed under 'To Be Left Alone'. Where certain conclusions have been drawn in your emotional world or with a relationship in particular, you're being encouraged to bring these back into the light of day to be looked at in a new way. The first stage of this process commences this week. Be prepared to alter at least one attitude or belief.
Monthly Love & Relationship Horoscope for August:
If you're aware you have, for some time, had to tolerate or accept a situation in your emotional world you knew was less than ideal or far removed from what you need, then the coming month offers good news. Whether you felt you had no choice other than to accept a restrictive scenario or did so because it offered the least amount of hassle or inconvenience, you could look back on coming weeks as a time you finally managed to break free from what – or who – has been holding you back. Best romantic days? August 17th, 22nd and 25th. Best match? Leo or Aries
More Horoscopes:
General
Money & Finance
Career & Business