Leo love & relationship horoscopes + psychic readings
Leo
More Horoscopes:
General
Money & Finance
Career & Business
Daily Love & Relationship Horoscope for Wednesday 24 May: view Tuesday or Thursday
There could be fluctuating energy in your emotional world, causing you to feel confident and assertive one minute and hesitant and cautious the next. Appearing indecisive or fickle in the eyes of a loved one could cause them to draw inaccurate conclusions and nipping tension or awkwardness in the bud relies on honest, two-way communication. Making sense of what you're feeling will be considerably easier if you choose to open up to someone close now. Understand your relationship from each persons' point of view.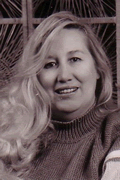 Call featured Psychic Goldey
Goldey aims to bring clarity where there is confusion, hope where there is worry, happiness where there has been sadness. Goldey is clairaudient, which means she senses a great deal from your voice, as well as clairvoyant and clairsentient but Astrology is Goldeys forte. In order to get the most out of your reading with Goldey you should have dates and times at the ready. Goldey can bring you real insight. 
Call Goldey quoting PIN 4439.
Weekly Love & Relationship Horoscope starting 19 May:
You could take the lead where introducing the object of your affections to a new way of thinking is concerned. It's by showing your willingness to be open-minded about a particular matter that they might, in turn, see what being open-minded themselves can bring. You and they look set to make more than one helpful and surprising discovery and, together, find a new quest for knowledge commences. Shared learning or discovering is well starred and will be a much more enjoyable journey if you do it together.
Monthly Love & Relationship Horoscope for May:
Affairs of the heart benefit from security coming from your home or family life this month. Whether a domestic project that has required focus and attention from you and a loved one is reaching completion or you and your lover have plans to move in together, your love life will be enhanced due to changes on home or family fronts. A shared willingness to adopt an open mind to what you or your partner have been seeing in a blinkered way can bring the two of you closer together, too. Be willing to consider what either or both of you dismissed previously.
More Horoscopes:
General
Money & Finance
Career & Business