Gemini love & relationship horoscopes + psychic readings
Gemini
More Horoscopes:
General
Money & Finance
Career & Business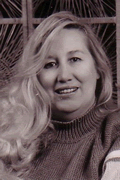 Call featured Psychic Goldey
Goldey aims to bring clarity where there is confusion, hope where there is worry, happiness where there has been sadness. Goldey is clairaudient, which means she senses a great deal from your voice, as well as clairvoyant and clairsentient but Astrology is Goldeys forte. In order to get the most out of your reading with Goldey you should have dates and times at the ready. Goldey can bring you real insight. 
Call Goldey quoting PIN 4439.
Weekly Love & Relationship Horoscope starting 19 May:
A New Moon in your sign could highlight more options available to you than you believed you had in your emotional world or within a close relationship. Where you might have felt options were limited or immovable restrictions applied, you could find proverbial doors easier to open or ways in which you've felt hampered have been due largely to your fear of pushing a relationship boundary – or taking a risk with your heart. Having more choice in your love life will boost your confidence. All you need to do is trust your heart to help to make the right choice.
Monthly Love & Relationship Horoscope for May:
As clear as your words might have been in your mind during recent weeks, releasing thoughts and feelings to a certain person might have been a frustrating or confusing exercise. Fortunately, from early May, that starts to change and if your inability to express yourself clearly has delayed a friendship becoming something more, then coming weeks offer a chance to put that right. If you're a single Gemini, then a New Moon in your sign at month-end could make available more than one romantic possibility. If a choice needs to be made, then let your heart be your guide.
More Horoscopes:
General
Money & Finance
Career & Business