Capricorn love & relationship horoscopes + psychic readings
Capricorn
More Horoscopes:
General
Money & Finance
Career & Business
Daily Love & Relationship Horoscope for Wednesday 24 May: view Tuesday or Thursday
You might feel confused by pressure to take a step that might be the result of curiosity more than anything else. As much as you want to leave a romantic or relationship situation alone through knowing it offers calmness and stability the way it is, you could be tempted to shift your attention to it once again with a view to satisfying a certain curious urge. There's one line in particular you know curiosity shouldn't allow you to cross. There will be repercussions if you do. Learn how to successfully plan ahead, with your own personal forecast.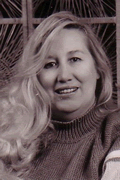 Call featured Psychic Goldey
Goldey aims to bring clarity where there is confusion, hope where there is worry, happiness where there has been sadness. Goldey is clairaudient, which means she senses a great deal from your voice, as well as clairvoyant and clairsentient but Astrology is Goldeys forte. In order to get the most out of your reading with Goldey you should have dates and times at the ready. Goldey can bring you real insight. 
Call Goldey quoting PIN 4439.
Weekly Love & Relationship Horoscope starting 19 May:
Physical desires could take a back seat – very briefly – in order for you to focus more intently on the pleasures of mental stimulation. Sounds dull? It could be far from dull if you're receptive to embracing opportunities on offer this week to form a delightful mental or possibly communicative connection with a certain person. A meeting of minds is on offer and someone's way with words could prove to be extremely sensual and erotic, encouraging you to respond similarly!
Monthly Love & Relationship Horoscope for May:
Plenty of patience will be required to make romantic or relationship progress this month but you'll be quick to understand and accept why developments need to unfold slowly. For some Sea Goats, a friendship has potential to become deeper but it's likely to be a cerebral connection you'll make with a certain person that stimulates you mentally and makes your heart beat faster. Getting-to-know-you chitchat will be replaced with something much more fulfilling and intriguing. It might be someone's amazing ability to say the right words that captivates your heart.
More Horoscopes:
General
Money & Finance
Career & Business