Cancer Money & Finance horoscopes + psychic readings
Cancer
More Horoscopes:
General
Love & Relationship
Career & Business
Daily Money & Finance Horoscope for Wednesday 24 May: view Tuesday or Thursday
The last few days have gone a long way to making sense of where things stand across the income, work and career fronts. The Moon's departure from your career sector has left you with your professional instincts sharp and a better sense of both your income and professional expectations. This allows you to narrow in on the quest that matters. How do you know the best time to make important decisions? Find out how!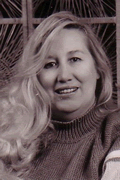 Call featured Psychic Goldey
Goldey aims to bring clarity where there is confusion, hope where there is worry, happiness where there has been sadness. Goldey is clairaudient, which means she senses a great deal from your voice, as well as clairvoyant and clairsentient but Astrology is Goldeys forte. In order to get the most out of your reading with Goldey you should have dates and times at the ready. Goldey can bring you real insight. 
Call Goldey quoting PIN 4439.
Weekly Money & Finance Horoscope starting 22 May:
For better or worse, you got your first taste of what having the lunar nodes in your two money houses means late last week. To start with there was nothing out of the ordinary about the Moon's return to your financial sector last week. The Moon returns every four weeks, sharpens your financial instincts and imagination and moves on. That was still the case, except this time there is likely to have been some financial tension. You can't get financial tension from the Moon's monthly visit unless it moves into opposition with forces on the income front and there has been none since last August. What you experienced was the Moon's first alignment with the South Node in your financial sector and opposition with the North Node in your income sector in 17 years. This took you to the frontline of what is now a battle to find a balance between money coming in and money going out.
Monthly Money & Finance Horoscope for May:
To start with it is business as usual, which means no money gods to be seen and no influences in play in either of your two money houses. There is nothing unusual about that, as this isn't normally an active point of the year on either front. Mercury left your financial sector in February, bringing all planetary activity there for the year to a close and the Sun, Mercury and Venus won't return to your income sector until July. All you can normally expect at this time of year is the Moon's monthly visits. However, this is the month when everything changes and it does so without any planetary intervention. It is on the 10th May that the lunar nodes will shift into your two money houses, the North Node in your income sector and the South Node into your financial sector, for the first time in 17 years. Unlike a planet the lunar nodes act like cosmic magnets and in the case of the North Node and income matters in particular, this will draw you onto a lucrative path and towards new income opportunities. Not due to leave until November 2018, this not only suggests a lucrative 18 months ahead, but a series of eclipses that will act as a catalyst. The first of those will be a total solar eclipse in your income sector in August. With Mercury back in your career sector until the 16th May and Venus spending the whole month there, this explains their reluctance to leave or move on. The Moon will move through your income sector from the 2nd May to the 4th May. This will be during Venus' early days back in your career sector, with a nose for money invaluable. However, the Moon's visit to your financial sector from the 17th May to the 19th May and to your income sector from the 30th May to the 1st June, will both come after the lunar nodes have shifted here, giving your first proper read on them.
More Horoscopes:
General
Love & Relationship
Career & Business