Cancer love & relationship horoscopes + psychic readings
Cancer
More Horoscopes:
General
Money & Finance
Career & Business
Daily Love & Relationship Horoscope for Wednesday 24 May: view Tuesday or Thursday
You might be aware of how emotionally you're reacting to a certain situation in your emotional world and for as long as emotions are forming part of a decision-making process, you'll be unlikely to see wood for trees, as the old saying goes. Before you can take a step that involves someone else, you'll need to be clearer about what you're feeling and why. Let emotions subside to allow you to see a love life situation in a clearer, more realistic light. How do you improve your lovemaking skills? Discover how you can!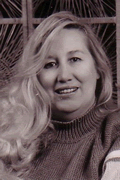 Call featured Psychic Goldey
Goldey aims to bring clarity where there is confusion, hope where there is worry, happiness where there has been sadness. Goldey is clairaudient, which means she senses a great deal from your voice, as well as clairvoyant and clairsentient but Astrology is Goldeys forte. In order to get the most out of your reading with Goldey you should have dates and times at the ready. Goldey can bring you real insight. 
Call Goldey quoting PIN 4439.
Weekly Love & Relationship Horoscope starting 19 May:
This week could be crunch time for one association, especially if you're a single Crab undecided about whether or not to take a relationship to a new level. A feeling of uncertainty could be strong and shouldn't be ignored and this applies to both single and spoken-for Cancerians. Your head wants you to take a certain step while your heart is demanding you heed the voice of uncertainty. Your mission this week is to be honest about how much of your decision-making process involves the needs of others – and how many of your own needs might be overlooked in the process.
Monthly Love & Relationship Horoscope for May:
Emotions could become intense around the Full Moon on the 10th but what comes to light will give you plenty to consider. Single Crabs could discover a platonic friendship conceals deep feelings and a relationship could be taken to a very new - and intimate - level. This month is all about forming or strengthening partnerships and whatever is agreed will be underpinned with an understanding that you and someone else are working in tandem as a team – and possibly once again!
More Horoscopes:
General
Money & Finance
Career & Business