Cancer horoscopes + psychic readings
Cancer
More Horoscopes:
Money & Finance
Love & Relationship
Career & Business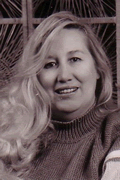 Call featured Psychic Goldey
Goldey aims to bring clarity where there is confusion, hope where there is worry, happiness where there has been sadness. Goldey is clairaudient, which means she senses a great deal from your voice, as well as clairvoyant and clairsentient but Astrology is Goldeys forte. In order to get the most out of your reading with Goldey you should have dates and times at the ready. Goldey can bring you real insight. 
Call Goldey quoting PIN 4439.
Weekly Horoscope starting 19 May:
A good idea deserves to be shared. Gaining input and advice would be helpful and there are support mechanisms on offer that you might not be taking advantage of to turn an idea into something more tangible. Don't let a sense of pride cause you to refrain from connecting with at least one person whose experience you can draw upon to help you move a certain plan forward. You're not as alone with a quest as you might believe yourself to be.
Monthly Horoscope for May:
Confusion or delays that have plagued anything connected with your career start to dissipate as discussions or negotiations become sensible and productive. Try not to dwell on why agreements took so long to happen. The time to move certain plans forward now is much better than it was a few weeks ago. The Full Moon on 10 May coincides with a positive development creatively - or romantically. At month end, the need for quality 'you time' will be strong. Detaching yourself to focus on your own needs will be time well spent!
More Horoscopes:
Money & Finance
Love & Relationship
Career & Business
2017 Forecaster
See how you benefit from a Forecaster report, find out what's coming up in the days ahead.
Get My 2017 Forecast