Aries Money & Finance horoscopes + psychic readings
Aries
More Horoscopes:
General
Love & Relationship
Career & Business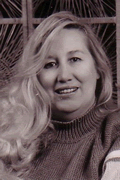 Call featured Psychic Goldey
Goldey aims to bring clarity where there is confusion, hope where there is worry, happiness where there has been sadness. Goldey is clairaudient, which means she senses a great deal from your voice, as well as clairvoyant and clairsentient but Astrology is Goldeys forte. In order to get the most out of your reading with Goldey you should have dates and times at the ready. Goldey can bring you real insight. 
Call Goldey quoting PIN 4439.
Weekly Money & Finance Horoscope starting 22 May:
When the lunar nodes shifted earlier in the month it didn't seem like a big deal. Yet it wasn't until the Moon returned to Pisces late last week that the full implications were felt and with that a pleasant surprise. For the previous 18 months the North Node had been in your relationship sector and the South Node in Pisces. Throughout that time a balance between your personal and relationship needs was policed. Throughout that time the Moon has visited both each month, constantly bringing your personal and relationship needs into conflict. The Moon moves through Pisces late and week and nothing. This has left you with a sense of what you want from your relationships and what they need from you, but how you police that is up to you. In the meantime, pay attention to romantically charged lunar vibes that kick in over the weekend, for they are a taste of things to come.
Monthly Money & Finance Horoscope for May:
That the focus is on income matters this month is no surprise, with the Sun always spending the first three weeks of May in your income sector. This year you have both a head start and a hold up, if that makes sense. The head start is due to the fact that by the time Mars left last month, just a day after the Sun returned, he had already spent six weeks firing things up and attacking glass ceilings. Even Mercury had spent nearly three weeks before retrograding back out on the same day, leaving you with a smart head for money and 20/20 hindsight. While this leaves you with a lot of options and momentum, things may appear to have stalled. This is partly because with Mars gone anything would seem to wind down, but also because you are playing the waiting game. Mercury will turn direct on the 4th May, returning for a double dip visit to your income sector on the 16th May. This is just five days before the Sun is due to leave, once more bringing the smart head for money needed to get your head back in the game. Yet if you expected this to give things the hurry up it won't, mainly because things will continue to unfold, even after the Sun leaves on the 21st May. It is almost as though the money gods are waiting for something, which they are. So far the only no show is Venus, planet of money and the one planet that really can attract the money. Not due to return until early next month, even by the end of the month the most lucrative weeks of the year will still be in front of you. In the meantime, a Full Moon on the 11th May will give both income and money matters a push.
More Horoscopes:
General
Love & Relationship
Career & Business