Aries love & relationship horoscopes + psychic readings
Aries
More Horoscopes:
General
Money & Finance
Career & Business
Daily Love & Relationship Horoscope for Tuesday 23 May: view Wednesday or Thursday
Trumpets don't need to be blown or formal announcements made where your emotional world is concerned. You know what – or who – has you fired up and feeling more optimistic than you've probably felt in a while but, for now, savor the moment before releasing or revealing something to the rest of the world. Making your personal affairs common knowledge will bring delightful romantic reverie to a halt. Are decisions easier to make when we know about our future planetary transits?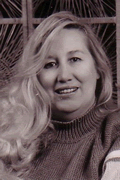 Call featured Psychic Goldey
Goldey aims to bring clarity where there is confusion, hope where there is worry, happiness where there has been sadness. Goldey is clairaudient, which means she senses a great deal from your voice, as well as clairvoyant and clairsentient but Astrology is Goldeys forte. In order to get the most out of your reading with Goldey you should have dates and times at the ready. Goldey can bring you real insight. 
Call Goldey quoting PIN 4439.
Weekly Love & Relationship Horoscope starting 19 May:
Levels of defensiveness on both your and someone else's part should be showing signs of crumbling as they play no helpful part in romantic or relationship discussions now. Where you might have grown used to a loved one or potential partner adopting a contrary or polarized view to your own, it could become clear this week how far you've both come and on the same page you are. A bond can be strengthened this week by focusing on what's positive, strong and undeniably agreeable rather than defending or justifying viewpoints.
Monthly Love & Relationship Horoscope for May:
It's a case of what you give this month, you'll receive and the first matter that needs addressing in your emotional world is communication – or possibly a lack of it – between you and someone close. Recent weeks might have brought tension or confusion to your romantic or relationship exchanges and if you make an effort on communication fronts, you'll receive positive and heartwarming responses. A new level of intimacy can be reached around the Full Moon on the 10th. Sending out positive, loving vibes will ensure they're returned in delightful ways!
More Horoscopes:
General
Money & Finance
Career & Business