Aries love & relationship horoscopes + psychic readings

Aries
More Horoscopes:
General
Money & Finance
Career & Business
Daily Love & Relationship Horoscope for Tuesday 6 October: view Monday or Wednesday
You needn't be apologetic for wanting the best in some way or setting some high standards where something connected with your emotional world is concerned. Progress you want and deserve relies on upping the stakes in some way or accepting that accepting second best in some way is no longer an option. Be willing to set your sights higher or on a greater prize! Life is a cosmically ordered affair, enabling you to make best use of the positive encounters, and to lessen the negative ones. Find out more.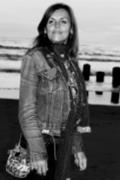 Call featured Psychic Francoise
Francoise is claircognizant. She will aim to use her intuition, inner knowledge and guidance cards to help you develop a brighter future. She is constantly developing her spiritual abilities and is currently studying contemporary Shamanism. If you are looking for a brighter future and more positive choices please contact her. 
Call Francoise quoting PIN 4154.
Weekly Love & Relationship Horoscope starting 2 October:
Whilst there could be a feeling of unease or awkwardness when expressing yourself emotionally or feeling misunderstood, you can make tangible and heartwarming progress on the love front. Allow a sense of harmony, affection or approval to override any inclination to be aggressive or confrontational and all will be fine. If you're looking for love, Venus's move into Virgo suggests your work, gym or anything associated with the medical world should be the first places to look.
Monthly Love & Relationship Horoscope for October:
October could be a month of delightful surprises but much depends on how willing you are to be honest with yourself about what you want from relationships - or one in particular. Progress on the romantic front relies on how you convey yourself to a loved one or love interest. Where you might anticipate resistance, you could discover you and someone else are thinking along very similar lines. Best romantic days? October 13th, 17th and 25th. Best match? Taurus or Virgo
More Horoscopes:
General
Money & Finance
Career & Busines