Aries Career & Business horoscopes + psychic readings
Aries
More Horoscopes:
General
Love & Relationship
Money & Finance
Daily Career & Business Horoscope for Wednesday 24 May: view Tuesday or Thursday
With all of the urgency gone from your professional year you're free to play things at the pace and speed that suits you. However with this is a need to trust your gut rather than your head. If you don't something because you think you should you won't be as successful as if you were to fully trust your gut. Want to know more about more about your future work? Get a personal Predictor.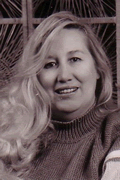 Call featured Psychic Goldey
Goldey aims to bring clarity where there is confusion, hope where there is worry, happiness where there has been sadness. Goldey is clairaudient, which means she senses a great deal from your voice, as well as clairvoyant and clairsentient but Astrology is Goldeys forte. In order to get the most out of your reading with Goldey you should have dates and times at the ready. Goldey can bring you real insight. 
Call Goldey quoting PIN 4439.
Weekly Career & Business Horoscope starting 22 May:
Things take on a quieter tone this week and it's about time. The biggest danger you face this week is telling yourself that you should be doing more, that you should be more motivated. In fact, if you went on a sabbatical for the next two months the professional gods wouldn't mind at all. It was the Moon's return to a reflective part of your chart over the weekend that may have taken the wind out of your sails. However, the biggest surprise was the lack of protest from the professional gods and from work forces in particular. On Monday it will have been 12 days since the North Node left your work sector and with both planets in your career sector now in retrograde motion, the urgency has gone out of your professional year. The reality is this is normal for this time of year. After nearly two years in the fast lane it's time to catch your breath.
Monthly Career & Business Horoscope forMay:
To begin with it is a case of business as usual, both in terms of a continuation from last month and for where things stood this time last year. In fact, where things stand at the start of May 2017 is almost exactly where they stood at the start of May 2016, which means the Sun is in your income sector, Pluto is in his first full month in retrograde motion in your career sector and the North Node is in your work sector. This brings a sense of familiarity that will bring a sense of confidence across the income, work and career fronts. You know how this goes, how to play things and you have some real history. The relationship between the Sun and Pluto will continue for several more years. Since returning to your career sector in 2008 Pluto has always turned retrograde in April and with the Sun always returning to your income sector in April. Their paths have crossed like this for the tenth time in as many years and will continue until Pluto leaves in 2024. This is simply what income and career matters do at this time every year. The North Node by contrast has only been in your work sector since November 2015, with this just the second time it has been part of this annual ritual. It will also be the last, ever in our lifetime. The North Node is leaving your work sector on the 10th May and while it will return in 17 years' time, Pluto will be gone from your career sector by then, not returning in our lifetime. This makes the first 10 days of the month extremely important, not for anything this might trigger on the work and job front, but for the sense of direction this will leave you with. Fortunately the Moon will move through from the 4th May to the 7th May, giving you an intuitive read on work and job matters in those final days.
More Horoscopes:
General
Love & Relationship
Money & Finance