Aries horoscopes + psychic readings
Aries
More Horoscopes:
Money & Finance
Love & Relationship
Career & Business
Daily Horoscope for Wednesday 24 May: view Tuesday or Thursday
The pace of life could be increasing noticeably and a lesser person would be bewildered, confused or frustrated at how quickly events are manifesting but you're inclined to welcome it. Making on-the-spot decisions surrounding options presenting themselves offers excitement and a cure for boredom. Having more on your plate means more options to consider but take your time to assess these properly. All that glisters might not be golden! What triggers your action at specific times? Find out now!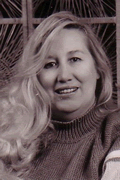 Call featured Psychic Goldey
Goldey aims to bring clarity where there is confusion, hope where there is worry, happiness where there has been sadness. Goldey is clairaudient, which means she senses a great deal from your voice, as well as clairvoyant and clairsentient but Astrology is Goldeys forte. In order to get the most out of your reading with Goldey you should have dates and times at the ready. Goldey can bring you real insight. 
Call Goldey quoting PIN 4439.
Weekly Horoscope starting 19 May:
Decades ago, when people said, 'get with the times', it was implied a new and amazing contraption called a video cassette recorder or computer with a black screen and green text connected to a tape recorder were needed. It took many people considerable effort to get their heads around this newfangled technology but they did and oh, how things have progressed since. This week, your thinking or approach to a particular goal needs upgrading. It's time to take your thinking from the past and bring it to the present so it can facilitate a more secure future!
Monthly Horoscope for May:
Whatever has been vague or ill-defined due to lack of communication or miscommunication becomes clearer as May unfolds. This has as much to do with what you've been telling yourself as it does what you've been trying to convey to others. New levels of understanding and agreement can be achieved and reached, whether this involves repairing a relationship or becoming clear about what your next move must be regarding an aspiration close to your heart. Tender moments on offer will make up for any tension experienced recently.
More Horoscopes:
Money & Finance
Love & Relationship
Career & Business
2017 Forecaster
See how you benefit from a Forecaster report, find out what's coming up in the days ahead.
Get My 2017 Forecast