Aquarius love & relationship horoscopes + psychic readings
Aquarius
More Horoscopes:
General
Money & Finance
Career & Business
Daily Love & Relationship Horoscope for Wednesday 24 May: view Tuesday or Thursday
A relationship can benefit from spontaneity and as much as you and a certain person might enjoy each others' company in predictable or familiar settings, try to stray from beaten paths now. Putting yourself in unfamiliar surroundings will encourage both of you to work as a team and collaboration is key to romantic or relationship fulfillment now. The more you put yourselves in situations that require putting your heads together, the stronger a bond can become. Identify the best moment for that important decision.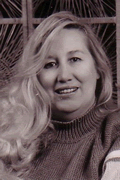 Call featured Psychic Goldey
Goldey aims to bring clarity where there is confusion, hope where there is worry, happiness where there has been sadness. Goldey is clairaudient, which means she senses a great deal from your voice, as well as clairvoyant and clairsentient but Astrology is Goldeys forte. In order to get the most out of your reading with Goldey you should have dates and times at the ready. Goldey can bring you real insight. 
Call Goldey quoting PIN 4439.
Weekly Love & Relationship Horoscope starting 19 May:
A New Moon in your love and romance sector is bound to assist with love life developments and many Water Bearers could have an additional option they'd not considered or been aware of. Romantic thoughts or visions might have been hampered recently but you're about to see how persuasive you can be or able you are to offer a strong foundation to any relationship-based discussion or exchanges. Where communication might have been a struggle recently, make an effort to see what emerges or transpires this week because thoughts and words can merge beautifully.
Monthly Love & Relationship Horoscope for May:
If you've felt you've been speaking an alien language to a loved one or potential partner during April, then May offers a chance to feel more reassured you're being listened to and understood. Your words will carry a new level of clarity and if you convey them positively and enthusiastically, then you can expect someone close to respond similarly. Single Water Bearers need to make a note of what occurs around the 25th. Having more than one romantic option will be more exciting than frustrating!
More Horoscopes:
General
Money & Finance
Career & Business