Aquarius horoscopes + psychic readings
Aquarius
More Horoscopes:
Money & Finance
Love & Relationship
Career & Business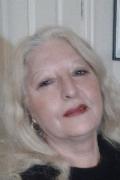 Call featured Psychic Tina
Tina is a Natural Psychic Clairvoyant who is also a very good Medium. Tina can do distant healing helping you feel more yourself. Tina uses her guides and angels to help guide you and give you the answers that you are seeking regarding any situation you may be facing. Tina can also use the Pendulum, Tarot and Angel cards if requested, to give a very indepth and detailed reading. Tinas readings will leave you with a zest for life and feeling content with yourself. 
Call Tina quoting PIN 4375.
Weekly Horoscope starting 24 March:
A certain situation might 'add up' in every way you need it to. On the face of it, you could be satisfied with how logically it appears. However, the sky implies that might be a cold way of looking at it. If you're only prepared to assess and accept it in such a shallow way and not look beyond the obvious at potential it holds if only you'd make more of an effort to connect with it, then you'll only benefit from it in a very limited way. Your eyes and brain know what they're seeing. Give your heart a chance to take you beyond the surface.
Monthly Horoscope for March:
You probably have a regular supply of innovative and unique ideas but coming weeks could see this surplus increase noticeably. Having wonderful ideas or creating ingenious plans is fine but these need to be conveyed to others if they're to become a reality. Mind-planet Mercury's link with Uranus and a New Moon in your solar sector of communication, ideas and words could help you create and convey bright ideas with ease. A Full Moon occurs on the 12th and if you or a partner have been waiting for good news on the financial front, it could arrive then!
More Horoscopes:
Money & Finance
Love & Relationship
Career & Business
2017 Forecaster
See how you benefit from a Forecaster report, find out what's coming up in the days ahead.
Get My 2017 Forecast