Aquarius horoscopes + psychic readings
Aquarius
More Horoscopes:
Money & Finance
Love & Relationship
Career & Business
Daily Horoscope for Tuesday 23 May: view Wednesday or Thursday
A sense of urgency could arise, highlighting how time doesn't appear to be on your side in a way you wish it was. Before pressure manifests itself fully, take stock early on in the day to confirm which tasks can be pushed to one side to allow focus and effort for what truly deserves it. The more flexible you can be, the more your stress levels will be reduced. Resist any urge to be superhuman and try to tackle everything that comes your way. Being selective is conducive to being productive. Do you know how to identify the best time to make that important decision?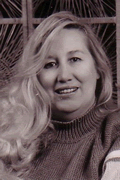 Call featured Psychic Goldey
Goldey aims to bring clarity where there is confusion, hope where there is worry, happiness where there has been sadness. Goldey is clairaudient, which means she senses a great deal from your voice, as well as clairvoyant and clairsentient but Astrology is Goldeys forte. In order to get the most out of your reading with Goldey you should have dates and times at the ready. Goldey can bring you real insight. 
Call Goldey quoting PIN 4439.
Weekly Horoscope starting 19 May:
The coming week could bring much relief, reassurance and pride where knowing you were right about something is concerned. You've also earned a position to educate or instruct in some way or are better placed now than you were to 'show someone the ropes' and recognition or praise coming your way will do much to boost your confidence and enthusiasm levels. Allow events this week to confirm how sought-after you are for your knowledge or expertise.
Monthly Horoscope for May:
Having the planet of communication creating havoc in your communication sector in recent weeks can't have been easy but from early May, you'll discover how stronger your position is to resume discussions or exchanges than it was in April. A Full Moon in your professional sector brings recognition or praise you've earned, so don't be modest – accept either or both willingly! As the month closes, a meeting of minds occurs between you and a certain person close to your heart. You'll be surprised at and delighted with the 'mental connection' that exists between you.
More Horoscopes:
Money & Finance
Love & Relationship
Career & Business
2017 Forecaster
See how you benefit from a Forecaster report, find out what's coming up in the days ahead.
Get My 2017 Forecast