Aquarius horoscopes + psychic readings
Aquarius
More Horoscopes:
Money & Finance
Love & Relationship
Career & Business
Daily Horoscope for Wednesday 25 May: view Thursday or Friday
The cosmos is providing what can only be described as a 'pick me up' or, to put it another way, picture someone clasping their hands, determined to encourage you to cease focusing on negative aspects of a situation and work with them make something happen where a positive result is assured. You're being helped and supported to remove yourself from a situation that been allowed to be seen as negative or uninspiring. Show willingness to comply. Identify the best moment for that important decision.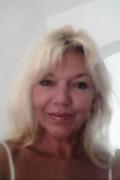 Call featured Psychic Earth Angel
Alison is an outstanding reader. Her test reading blew us away. She is a natural Clairvoyant, Clairsentient and Clairaudient. She will aim to help and uplift you - giving light and clarity to your journey here on earth. 
Call Earth Angel quoting PIN 4162.
Weekly Horoscope starting 20 May:
The sky speaks this week of a new level of understanding being reached between you and possibly more than one person. You're being recognized or acknowledged in a way you might have given up hope of ever happening. It's as if something is finally starting to 'click' in the minds of others who are finally starting to connect with a train of thought you've had for some time. Better late than never!
Monthly Horoscope for May:
Coming weeks bring a sense of acceptance and recognition. Where you might have grown used to ways in which you felt you had to remain outside a sphere of activity or not allow yourself to be as involved with or make a contribution to a certain cause or plan, you look set to be the recipient of appreciation and acceptance. Expect soon to become more involved with and integral to something you've long wanted to be more closely associated with.
More Horoscopes:
Money & Finance
Love & Relationship
Career & Business
2016 Forecaster
See how you benefit from a Forecaster report, find out what's coming up in the days ahead.
Get My 2016 Forecast